NEW Bounceback Advertising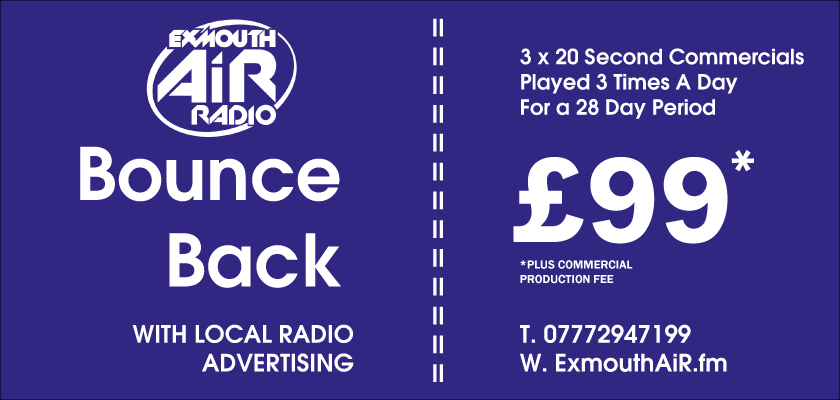 At ExmouthAiR we do all we can to support local businesses and organisations every day but especially now, in the recovery out of the COVID-19 crisis and lockdown.
During the recovery phase ExmouthAiR wants to help Local Businesse Here in East Devon get back on track for 2020.
Our Bounceback Advertising Package gives you :
3 x 20 Second Commercials per day for 28 days for just £99 (T's & C's Apply)
Advert played Monday - Friday between 7am and 6pm and on the Weekend Breakfast Show
Advert Production ONLY £59
50% Reduction if campaigns are taken out for 3 months.
Free Production if campaigns are taken out for 6 months.
It's important that we get our economy back on track and this ExmouthAiR's way of Supporting our Community her in East Devon during challenging times.
For more information, or to take us up on this amazing offer, please complete the form below or you can call the Sales Team on 07772947199
Radio Advertising is a great way to engage and raise awareness for a business, product or brand in the local community and we are encouraging businesses to continue to spend on radio advertising and here's why:-