Exmouth AiR Tote Bag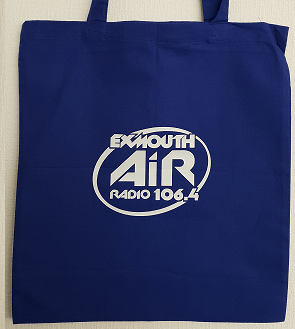 £5.00
£2.50
Remaining: 12
Carry Your Shopping around in Style with an Exmouth AiR Tote Bag
USING YOUR VOUCHER
1. Do I need to print my voucher?
Yes, we always recommend doing this. Some of our partners will only accept hard copies of their vouchers for auditing reasons. If you don't have access to a printer, check with the voucher provider directly to see if they will accept seeing the voucher on a screen. Some vouchers will provide you with a code to use online, in this case, follow the instructions of the provider.
2. I didn't receive any emails, what should I do?
Firstly, don't panic! Check your account to see if your vouchers are there. You can do this from any page of ExmouthAir.co.uk Click on "Log In" at the top of the page. Once you've logged in you'll then see a menu of options. Click "My Vouchers", and you should see the vouchers you've purchased there.
If they're missing, get in touch with the voucher team.
3. I need to book in advance for my voucher what do I do?
Follow the instructions on your voucher. You'll need to contact the voucher provider directly using the contact details on your voucher.
4. I'm having trouble booking/I can't get hold of the business, what do I do?
Let us know! Sometimes circumstances beyond our control mean that issues arise with redeeming vouchers, but our team are on hand to help. Get in touch using the details at the bottom of the page.
5. I've made a mistake! I booked the wrong voucher/too many vouchers what do I do?
Oh you silly sausage! Our vouchers are non-refundable, but if you call the team and talk really nicely to them they may just be able to help.